This article or page is currently unfinished.
The EMD F40PH is a type of four-axle, 16-cylinder, passenger diesel locomotive manufactured by EMD between 1975-1992 (including its variants). Morrison-Knudsen also built several variants between 1991 to 2000, while the main model was built between 1976 to 1988. Several commuter railroads currently use F40PH locomotives, though the model was originally intended as a specialty locomotive for Amtrak.
Many have since been scrapped, rebuilt, and/or retired. Amtrak no longer utilizes any of their original F40PH units in active service, however, many shells of former units still remain as NPCU (Non-powered Control Unit) cab/bagagge cars ("cabbage" cars) in head-end service.
Some are preserved in various museums, while others are undergoing restoration.
The F40PH was originally constructed for America's passenger railroad Amtrak because the engines that Amtrak previously used,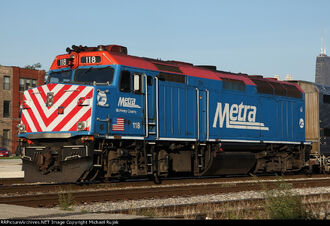 the SDP40F, were plagued by various degrees of maintenance and performance issues. However after many years of service the locomotives were retired and replaced with
GE Genesis Series
locomotives like the P40DC and P42DC beginning in 1993. Along with Amtrak, several other railroads purchased the F40PH including VIA Rail, Metra, Caltrain, MBTA, Coaster, Metrolink, GO Transit, and Music City Star and CSX.
MK Rail F40PH-2C and F40PH-3C
Edit
Specifications
Edit
The F40PH uses a turbocharged EMD 16-645E3.
Trivia/Facts
Edit
All remaining Amtrak F40PH locomotives have been converted to NPCU's, while some unrebuilt units remain in storage awaiting their next fate.
Every year during the month of December, Caltrain utilizes F40PH locomotive 920 to pull the holiday train that runs every year to benefit various charities, including the Salvation Army.
en.wikipedia.org/wiki/EMD_F40PH
http://www.amazon.com/Locomotives-Modern-Diesel-Electric-Reference/dp/1554078962