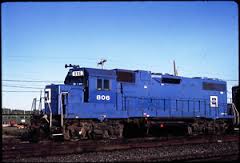 The EMD GP38-2 is a four-axle diesel-electric locomotive of the road switcher type built by General Motors, Electro-Motive Division. Part of the EMD Dash 2 line, the GP38-2 was an upgraded version of the earlier GP38. Power is provided by an EMD 645E 16-cylinder engine, which generates 2000 horsepower (1.5 MW).[1] Most built still remain in service in the modern era due to ease of maintenance and exceptional reliability.
The GP38-2 differs externally from the earlier GP38 only in minor details. Its most distinctive identifying feature is the cooling water level sight glass on the right side of the long hood. The battery box covers of the Dash 2s are bolted down instead of hinged. It can be distinguished from the contemporary GP39-2 and GP40-2 in that its Roots blown engine had two exhaust stacks, one on each side of the dynamic brake fan, if equipped, while the turbocharged GP39-2 and GP40-2 has a single stack. The GP39-2 has two radiator fans on the rear of the long hood like the GP38-2, while the GP40-2 has three. It was also available with either a high-short-hood, common on Norfolk Southern units, or a low-short-hood, which is found on most other railroads.
1,799 examples of this locomotive model were built for American railroads and industrial concerns, 257 for Canadian railroads and industrials, 156 for Mexican railroads and industrials, and 1 export unit for the Saudi Arabian Government Railways. A total of 31 GP38-2s were built with high-short-hoods containing steam generators for passenger service on Mexican railways. In addition, all 257 of Southern Railway's GP38-2s had Southern's "standard" high-short-hoods.