The
EMD (Electro Motive Division)
SD40A is a type of six-axle, 3,000hp diesel locomotive built by the Electro-Motive Division of General Motors (GM) from 1969 to 1970.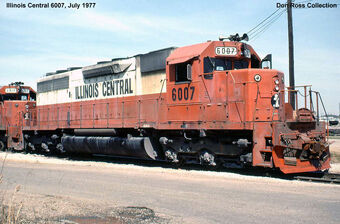 Only 18 examples of this particular model were built exclusively for the Illinois Central Railroad Gulf (ICG), and only a handful exist in revenue service with CN (Canadian National) after the merger/acquisition of the railroad in 1998.
Soo Line acquired 5 units from IC and were eventually inherited into CP's (Canadian Pacific's) roster as a result of the Soo-CP merger in the 1990's, but have since been retired as of 2003-2005.
The remainder have since been retired and/or scrapped.
Although essentially an SD40 with an SDP45 frame to house a 5,000 gallon fuel tank as opposed to the usual 3,200 gallon one, the SD40A was offered as a slight improvement to the original SD40 model by lasting longer distances without the need to constantly refuel at every refueling depot located within every other yard on the Illinois Central's mostly long, rural, and somewhat remote system. The units were built as long-distance road-switchers; basically to further accommodate the railroad's recent merger/acquisition of the Gulf, Mobile, And Ohio (GM&O) railroad's trackage, therefore making the once relatively small Class 2 railroad significantly larger (and more rural) than before.
Although successful, the model was eventually replaced with the subsequent SD40-2 in EMD's catalog, which debuted nearly two years after the SD40A's debut. Hence, the increasingly successful and popular SD40-2 (with its longer frame reminiscent of the SD40A) replaced further orders that were once placed on the SD40 and subsequent specialty variants by the IC.
Trivia/Facts
Edit
The SD40A was practically one of the so-called "testbeds" or earlier, prototypical models for the SD40-2 due to having an extended frame (though, the SD40-2 has its own unique frame as opposed to an SDP35 frame).
The IC's fleet consisted of two orders: 6006-6018 (delivered and received in Aug. 1969), and 6019-6023 (delivered and received Jan. 1970).
As of 2014, only six units (IC 6011 and 6013-6018) remain in active service on CN's roster.
Ironically, most earlier SD40 units acquired by the IC during the GM&O merger (prior to the 1998 CN merger) were rebuilt into what were dubbed as a(n) "SD40A" by the railroad; having been upgraded to "Dash 2" or SD40-2 specs, while their existing original SD40A units were rebuilt, upgraded, or re-classed as a(n) "SD40A-2R".
http://www.trainweb.org/jaydeet/sd40.htm
http://www.railpictures.net/showphotos.php?locomotive=EMD%20SD40A-2R
http://donsdepot.donrossgroup.net/dr1556.htm
http://donsdepot.donrossgroup.net/dr1557.htm
http://www.mountainrailway.com/Roster%20Archive/CP%206400/CP%206409.htm