The
EMD (Electro Motive Division)
SD70ACe
(often nicknamed "Ace" or "The Ace" by most railfans, builders, and employees) is a type of six-axle, 16-cylinder, 4,300hp AC-traction diesel locomotive which was first introduced in 2004 (the prototypes built the previous year), and has been in production
since 2005
as a replacement for the
SD70MAC
.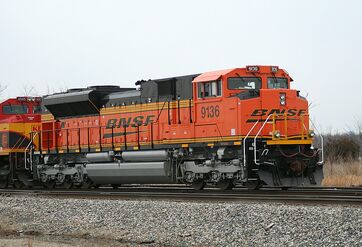 Although the original SD70 Series line; including the subsequent SD70ACe, were initially expected to end domestic production by
2015
as a result of the 710 engine line and subsequent 710 engine model (16-710G3C-T3) having failed to meet Tier 4 emissions regulations, the new EMD 1010J-equipped SD70ACe-T4 prototype was unveiled during the 2015 Railway Interchange rail expo in the twin cities region of Minnesota, and furthermore rebounded the line and subsequent locomotive model. But as of 2015, the Tier 3-compliant model is available for export only, while specialty variants (such as the SD70ACe-BB) are currently in production.
Many have been built, and are still currently in production as EMD's main diesel locomotive model.
Union Pacific (UP), BNSF, Ferromex (FXE), CSX, KCS (Kansas City Southern), Montana Rail Link (MRL), ALL (América Latina Logística), Quebec North Shore & Labrador (QNS&L), Norfolk Southern (NS), and CN (Canadian National) are among some of the many customers whom have ordered the model.
Union Pacific (UP) and BNSF currently have the largest fleets of the model, while CSX has one of the smallest (having only 19). Despite having the smallest fleet of every Class 1 owner (besides CN), CSX was actually the first to order the model, for the railroad placed an order for 20 units in March 2004 following completion of 55 SD70MAC (SD70AC) units built months prior.
NS recently assembled the last domestic-built Tier 3-compliant SD70ACe units at the road's Altoona Works from late-2014 to early 2015. They ironically were the only other "true" domestic units built, for the vast majority of domestic units built for American customers were built in Canada at EMD's former London, Ontario GMD (GMDD) facility throughout most of the entire duration of the model's production. Most other units were either assembled or completed at LaGrange, Super Steel Schenectady, Coast Engine and Equipment Co. (CEECO), among various other facilities scattered across the continent.
The EMD SD70ACe (as well as the actual SD70 Series) was also the last completely new diesel locomotive model to be built and assembled in EMD's LaGrange, Illinois plant, the last to be built or manufactured in their London, Ontario shops, the first to be assembled at EMD's San Luis, Potosí facility, and the first to be built or manufactured in their Muncie, Indiana facility (basically, being one of the only domestic models to be built in three main locations since production).
The EMD SD70ACe is essentially a more technologically-advanced version of the SD70MAC, as well as being a more energy-efficient, Tier 2-compliant version of the 4,300hp SD90MAC (being the SD9043MAC; both which are rated at the same amount of horsepower and utilize a similar model of 710 series engine), but initially became its own unique model of the SD70 from within EMD's SD70 line because of it having a completely different external design, yet utilizing the typical HTCR-II or HTCR (later HTSC) radial trucks as well as the more angular fuel tank present on some preceding units built prior to the SD70ACe's debut.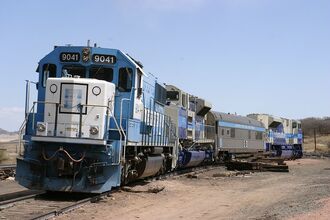 The model itself was ultimately built and designed to follow the US EPA's strict "Tier 2" low-emissions policy which took affect sometime in 2003-2005 (though, the EPA has since allowed EMD to develop later variants capable of supplementing "Tier 3" requirements since 2012), and was a response to prove how diesel locomotives were capable of consuming less fuel, emitting less exhaust fumes, as well as requiring less engine maintenance to further reduce operation costs (as compared with EMD's preceding types or models of diesels after many numerous tests and trials were made during the SD70ACe's early stages of development and production).
But because of drawbacks regarding early performance tests of the model, EMD unfortunately wasn't able to fully promote the SD70ACe in-time to various host railroads; despite the four testbeds (GM 70-73) having been completed and demonstrated much earlier than anticipated. Thus, GE's completed "GEVO" (Evolution Series) demonstrators (or testbeds) began to promote energy-efficient high-horsepower diesel locomotive technology to railroads and the general public, though the testbeds lacked the same flawless AC-traction control systems and other technology as the SD70ACe at first (and GE's subsequent AC4400CW predecessor, which inspired the development for the ES44AC; the SD70ACe's arch-rival), for the EM2000 control system, Gen2 FIRE, and Wabtec FastBrake electronic microprocessor control systems constituted towards progress that revitalized the SD70 line, and further beat GE to the punch.
Hence, the SD70ACe instantly grew popular with railroads "craving" AC-traction and new technology; such as the Union Pacific, and furthermore opted to be part of both EMD and GE's energy-saving programs. Though, because of development issues (as mentioned), the SD70ACe didn't officially begin production until late-2004 which then gave time for rival GE to further troubleshoot and improve the minor technical difficulties revolving around the ever-popular and dominate ES44AC. However, CSX (as well as UP, who ordered their first fleet thereafter) already began receiving orders of SD70ACe units made prior to the ES44AC's official debut; making the SD70ACe ahead of the competition and furthermore giving a better chance of EMD becoming the top locomotive builder once again like before. Unfortunately, GE unfortunately took the lead once again with developing modern, revolutionary,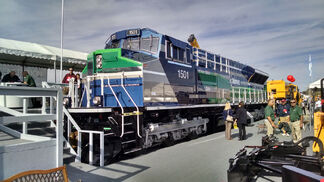 innovative, conventional motive power once again when the
ES44DC
made its official debut in 2006 with BNSF and CSX. However, BNSF still had high interests in purchasing SD70ACe's for use in heavy-haul applications for their heavy-duty coal drag service to aid their preceding
SD70MAC
units.
The model is also the only other type of American-based or domestic diesel locomotive to be assembled in multiple nations for American-based customers, to which the vast majority of units were assembled in Canada, while several others have actually been assembled at some of EMD's Mexico assembling facilities (like San Luis Potosí) for railroads like NS and UP. In other words, the SD70ACe was the first domestic model to be assembled internationally for domestic-based customers; although models like the SD60, GP60, and so-forth were primarily assembled in London, Ontario, for GM began outsourcing jobs from LaGrange in the 1980's in favor of paying Canadian workers lower wages and having half the benefits of American workers. Therefore, domestic-built models were primarily assembled or built in Canada from the mid-1980's until 2010-2012 during the CAT merger, when the company expanded to Mexico and Brazil while redeveloping or bringing back jobs to the US by opening the new Muncie facility.
As of 2015, the SD70ACe is still currently in production, though the main model is available for foreign export only, for it fails to meet Tier 4 requirements and regulations implemented by the EPA; despite having been Tier 3-certified several years prior in 2011. In recent news, Ferrosur (a Ferromex subsidiary) recently received the last of the 15 SD70ACe units ordered between September 2014 and July 2015. Said units are equipped with distinct panels mounted between the railing of the frame and air intake section, and are meant for tunnel operations (drawing cool air more effectively into the air intakes and blocking dust and other particles from entering). The newly-manufactured Tier 3-compliant diesel locomotives are further prohibited for operating within American borders or on US soil, yet rebuilds or remanufactured locomotives meeting Tier 3 requirements are exceptional for domestic use. 
Its main rival, the GE ES44AC, has currently outsold the model in terms of sales and popularity.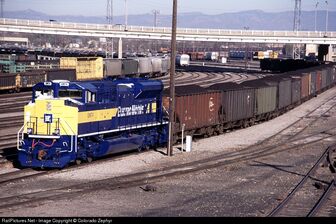 The SD70M-2 (previously known as the "SD70DCe" during development) is an externally-similar type of diesel locomotive and is the SD70ACe's DC-traction counter-part. It was built in response to GE's once-popular ES44DC (before the ES44AC became the preferred choice for railroads later on). Many have also been built, yet the model has since been discontinued due to low popularity, as Norfolk Southern (NS), Florida East Coast (FEC), and Canadian National (CN) were the only customers to purchase the particular model. CEFX (CIT Financial) also acquired 3 ex-EMDX demonstrators in 2006.
As of 2011, NS has decided to purchase more AC-traction diesel locomotives in favor of traditional DC-traction models due to the high cost of fuel, considering the fact that AC traction is more efficient for heavy-duty service, and is now similar in cost to subsequent DC-traction models.
The name itself was originally meant to serve as an upgraded version of the original SD70M, yet the SD70M-2 (as stated) is simply a DC-traction counter-part of the SD70ACe. Prior to the model's debut, it was briefly known as the "SD70DCe", for GM 74-76
SD70ACe-P4 and SD70ACe-P6
Edit
During 2012 and throughout 2013, EMD (with collaborative efforts from their new main manufacturing facility in Muncie, Indiana) began to experiment and successfully develop new revolutionary technology for North American motive power: a new axle arrangement (SD70ACe-P4) and the ability to control each traction motors' axles individually (SD70ACe-P6).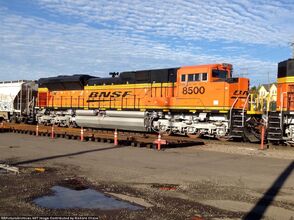 Developed in response to GE's A1A-trucked
ES44C4 model
, the company collaborated with BNSF to develop the SD70ACe-P4: the first domestic North American diesel locomotive to ever include a unique
B1-1B axle arrangement
, which was intended to provide better weight adjustment with the powered axles, higher gear ratios, and to increase tractive effort in contrast to existing and preceding SD70ACe units. 2 were built (EMDX 1211 and EMDX 1212) following EMD's proposal in late-2012; which consisted of a plan that involved BNSF converting 10 of their existing SD70ACe units into new SD70ACeP-4 testbeds. Although the SD70ACe-P4 was revolutionary with its introduction of said unique axle arrangement: having four powered axles and two unpowered axles (the axles facing opposite ends of the fuel tank are powerless, while the rest are powered), it unfortunately didn't prove to be too favorable with BNSF, even after successful tests and demonstrations on their otherwise desolate Raton Pass Subdivision in Colorado the following year. Though, the railroad proceeded to develop the proposed 10 testbeds. As of late-2014, however, an additional 10 were built and now make up of a total of 20 SD70ACe-P4's (BNSF 8500-8519). Yet because of financial issues along with technical difficulties, lack of popularity, and the recent EPA Tier 4 emissions policy coming into effect, the idea to mass-produce the SD70ACe-P4 has been entirely scrapped. As of late-2014, Tacoma Rail received two former P4 demonstrators for a 5-year lease from EMD.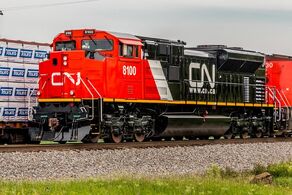 During late-2013/early-2014, EMD began to demonstrate (and eventually lease) four of their new SD70ACe-P6 demonstrators to CN (EMDX 1206, 1208-1210; renumbered CN 8100-8103) and converted some of the existing Tier 3 SD70ACe demonstrators (including some of the "P4" testbed units previously built) to include a new feature: individual axle control, or the ability to control each axle individually to improve tractive effort and balance the weight distribution of the unit(s) leading the overall train. Said units are equipped with a newer variant of the HTCR-II radial truck, along with the software and hardware to accommodate said features.
Currently, the Union Pacific (UP) has been receiving orders for newly-designated SD70ACe units known as the "SD70AH". Said units are weighed similar to CSX's ES44AC ("ES44AH") units, and are classified in a similar fashion as well; weighing at approximately 427,000 lbs as opposed to 420,000 lbs. Though, the diesel's have slightly larger cabs to provide better insulation, weight distribution, and crew safety similar to the various GEVO ("C45AH") units produced from GE that were delivered during the same time.
SD70ACe-T4 "Tier 4"
Edit
Beginning mid-2015, EMD unveiled a new Tier 4-compliant version of the existing SD70ACe model which debuted at the Twin Cities Rail Expo in Minnesota. Equipped with the new 12-1010J engine (modified from the existing 12-265H) and HTCR-6 truck design, the SD70ACe-T4 is EMD/Progress Rail's response to GE's Tier 4 GEVO lineup. Despite having minor setbacks causing a previously slated 2017 release, the locomotive model was completed early as a result of collaborative efforts with customers. 10 demonstrators are expected to be completed by mid-2016.
Concurrently at LaGrange, EMDX #91 (one of the two former SD90MAC-II testbeds) is now serving as a mechanical testbed for the 12-1010J engine fitted with the SD70ACe-T4.
Said units are also equipped with individual axle control like that of the SD70ACe-P6.
Several additional variants or versions exist as well:
SD70ACe/Ic - Australian version built for use on BHP's Pilbara ore trains.
SD70ACS - Saudi Arabian variant rated at 4,500hp and includes special cooling systems used for operating in extreme heat conditions for use in desert environments.
SD70ACe/LCi - Australian variant built for use on Fortescue Metals Group Ltd. ore trains.
SD70ACe/45 - Brazilian or Latin American variant built for broad-gauge usage.
SD70ACe-T4 - "Tier 4" variant of the SD70ACe equipped with new EMD 1010 series engine.
SD70ACe-BB - Combined four-axle (B-B+B-B) narrow-gauge version built for use in Brazil to meet loading restrictions; intended to further replace GE BB40-9W.
Name Designation
Edit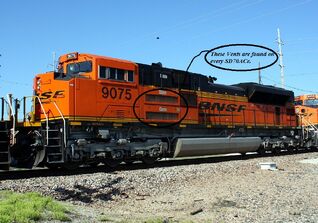 The name of the locomotive type or model itself, is meant to designate the series (SD70) and tractive power (AC). The end suffix initial on the other-hand, regards the simple fact that the model itself is intended to be energy-efficient (besides being an enhancement or improvement of the SD70MAC and other models), or being "eco-friendly" and following the US EPA's "Tier 2" emissions and energy policy (hence, the "e" meaning, "eco", "enhanced", or "energy-efficient").
Or:
"SD" - "Super Duty" or "Special Duty"
"70" - Being the series.
"AC" - For "AC-traction"
"e" - "Efficient", "enhanced", or "eco".

For the SD70M-2, the "M" means "Modified", while the "-2" originally meant "Dash 2", referring to EMD's "Dash 2" subline. But in this case, however, the "-2" would commonly refer to "Phase 2" like with the EMD SD70M "Phase 2", as well as the SD90MAC-II (the "Phase 2" however, being omitted), and only used as a reference to avoid further inconsistencies. Said models like the SD40X share a similar dilemma.
Identification
Edit
The main ways of distinguishing or identifying an SD70ACe from an SD70M-2 (excluding foreign variants) is by the number series (primarily for NS, having both models of the latter), and/or by the front conductor-side radiator cabinet used for housing AC-invertor equipment.
It should also be noted that all SD70ACe units include or feature large distinct vents used for cooling the traction motor inverters, located on the radiator cabinet unlike the SD70M-2.
ALL's SD70ACe/45 has a radiator section similar to that of Vale's SD80ACe (having three fans located on top and having vents separated into multiple sections as opposed to just one).
Although a successful type of locomotive, the EMD SD70ACe has experienced numerous flaws; primarily with the cab. Despite having a unique (yet rugged) design, the overall style of the front hood (or "nose") of the cab often made maintaining the wiring, electronics, and/or accessing the microprocessor components difficult for railroad employees at first. Though, the cabs on later units also deemed to be a nuisance because of how badly they vibrated due to having a lack of interior insulation to make it "isolated".
Specifications
Edit

A list regarding the overall statistics of both the SD70ACe and the SD70M-2.

| Specifications (est. to approx. values) | SD70ACe | SD70M-2 |
| --- | --- | --- |
| Wheel (axle) arrangement | C-C | C-C |
| Length | 74' 3" | 74' 3" |
| Weight | 408,000 lbs. | 407,000 lbs. |
| Height | 15' 11" | 15' 11" |
| Engine Control System | EM2000 | EM2000 |
| Engine (motor or prime-mover) | 16-710G3C-T2 | 16-710G3C-T2 |
| No. of cylinders | 16 | 16 |
| Traction horsepower (horsepower output) | 4,300 | 4,300 |
| Traction alternator | TA17/CA9 | CA7A/A8589 |
| Traction motors | A3432 | D100 |
| Maximum speed | 70mph | 70mph |
| Continuous tractive effort | 157,000 lbs. | 113,000 lbs. |
| Starting tractive effort | 191,000 lbs. | 163,000 lbs. |
| Dynamic braking effort | 106,000 lbs. | 86,850 lbs. |
| Fuel capacity | 4,900 gals. | 4,900 gals. |
| Prime Movers | 8-710G3A-T2 | 12-710G3B-T2 | 16-710G3C-T2 (SD70ACe and SD70M-2) |
| --- | --- | --- | --- |
| Stoke cycle | 2 | 2 | 2 |
| Bore/stroke | 9.0625 x 11" | 9.0625 x 11" | 9.0625 x 11" |
| Displacement | 710 cubic inches | 710 cubic inches | 710 cubic inches |
| Aspiration | Turbocharged | Turbocharged | Turbocharged |
| Traction horsepower | 2,150 | 3,150 | 4,300 |
| RPM idle/low idle | 200 rpm | 200 rpm | 200 rpm |
| Cylinders | 8 | 12 | 16 |
| RPM full load | 904 rpm | 904 rpm | 950 rpm |
Trivia/Facts
Edit
Sometime between 2012 and 2013, BNSF experimented with LNG (liquified natural gas) for testing and evaluation purposes as an alternative for diesel fuel (similar to the BN's light natural gas tests from the 90's). Said tests consisted of a set of SD70ACe units, while another set of ES44AC's were also used.
Some of the current Tier 3-compliant demonstrators have also found there way to the Latin American region as evidenced here.
The SD70ACe was the last type of production diesel locomotive produced by EMD under GM's ownership, and the first under CAT's.
As of 2013, CN (CN Rail, or Canadian National) has been receiving orders for their first SD70ACe fleet, which also marks one of the very first ever AC-traction diesel locomotive types (besides their GE ES44AC fleet first ordered in late-2012) purchased by the once traditional all DC-traction diesel locomotive-based railroad.
As of 2012, EMD recently experimented with several attempts in developing a B1-1B-trucked version of the SD70ACe known as the SD70ACe-P4, which is meant to serve as a competition against GE's ever-popular A1A-trucked ES44C4 primarily ordered by BNSF.
The EMD SD80ACe, a similar type of diesel locomotive utilizes a similar design and is practically an upgraded, V20 5,000hp version of the SD70ACe, yet it ironically isn't due to being a specialty locomotive, but with a similar appearance.
The locomotive's design actually originates from modern GE freight diesel locomotives. Such as having radiator "fins" or "wings", a large radiator cabinet placed on one side, and air tanks placed on another.
2012 actually marked the 20th anniversary of the SD70 Series, and the introduction of the SD70ACe-P4 was used to celebrate the event.
Although the SD70ACe has been rumored to run more smoothly than most GE Evolution Series locomotives, many railroads prefer to order more GEVO units due to the SD70ACe's high maintenance costs; yet the SD70ACe has been proven to last much longer than most GEVO's.
To celebrate the opening of CAT/EMD's Muncie, Indiana facility, EMD painted EMDX #1201 (an SD70ACe demonstrator) in a unique CAT-inspired scheme (the unit was also exhibited at the 2012 MIN-expo in Las Vegas, Nevada during the following months prior to its excursion on Norfolk Southern). Though as of late-2013, the unit is now known as Arkansas And Missouri #70 as a result of the railroad's purchase of EMD's recent lease/demonstration fleet (with EMDX #1201 being part of said purchase).
In an unusual move, the Arkansas And Missouri (A&M) shortline railroad purchased three brand-new SD70ACe units to replace some of their aging ALCO Century Series diesels; making the A&M the only shortline to order the SD70ACe thus far (such units even sport unique brass-bells between their numberboards as with their ALCO "ancestors"). Although they originally proposed on receiving 10 units, they received only 3 (ex EMDX 1201-1203).
The SD70ACe was also the first type of locomotive to use the once-exclusive Nathan K5LLA horn, which is a 1L chime or bell variant of the original K5LA.
Earlier KCS (Kansas City Southern) SD70ACe units owned by the railroad were painted in the railroad's generic grey with yellow stripes scheme, and were some of the last locomotives on the railroad's roster to be painted in such scheme before the classic or vintage-esque "Belle" scheme was eventually developed (later units were also some of the first to actually receive the "Belle" scheme on their roster as well; ironically).
ALL's SD70ACe/45's are equipped with K3H/K3LA horns as opposed to the usual K5LLA.
Several CSX and KCS SD70ACe units have had their fouled K5LLA's replaced with third-gen K5LA's.
Many SD70ACe and SD70M-2 units built prior to 2009 still feature now out-dated and no longer supported Windows XP and Vista operating systems for displaying stats on the desktop monitors, while later units utilize Windows 7.
In December 2014, the three SD70ACe units owned by the A&M were involved in a derailment which damaged them greatly. Fortunately, #72 was salvageable, and is currently back in service, while nos. 70 and 71 are undergoing overhaul and are expected to be back in service by the middle of January 2015.
While working on a UP coal train, testbed GM 72 had the misfortune of derailing (almost into the river) near Yarmony, CO on June 29, 2004. The unit was fortunately repaired and rebuilt, and eventually became KCS #3998 sometime after.
As for the current status of the former SD70ACe demonstrator testbeds, GM 71-73 became KCS #3997-3999, while GM 70 is currently awaiting its next disposition at LaGrange, IL. GM 70 was also retrofitted with different air filters as being part of an early emissions experiment shortly after finishing demonstrations in 2007, and is still mostly intact as well.
As of early 2016, two UP SD70ACe units (UP #8777 and 8778) have undergone testing for Liquified Natural Gas (LNG) and are currently "mated" to tender UP No. 101 (previously CNW 1, originally UPT No. 1).
As of recent, three SD70ACe units from three Class 1 railroads have undergone demonstrating the new HTCR-6 truck model or truck design: NS #1000, UP #8949, and BNSF #9092, for performance testing and evaluation purposes.
http://www.rrpicturearchives.net/locoList.aspx?mid=496&Page=7
http://www.railwayage.com/index.php/mechanical/locomotives/locomotives-is-lng-the-next-generation.html
http://www.emdiesels.com/emdweb/products/sd70ace.jsp
Trains Magazine Vol. 75, Issue 1: Page 9
http://www.rrpicturearchives.net/locoList.aspx?id=EMDX
http://www.progressrail.com/cda/layout?m=692708&x=7&id=4691764
http://www.amazon.com/Locomotives-Modern-Diesel-Electric-Reference/dp/1554078962
http://www.progressrail.com/cda/files/4689664/7/SD70ACe-BB_ENG_A4.pdf
http://www.rrpicturearchives.net/locolist.aspx?id=EMDX&mid=496