The
EMD (Electro Motive Division)
SD90MAC
is a type of six-axle, AC-traction, 16-cylinder, 6,000hp to 4,300hp diesel locomotive produced from 1995 to 2000. It was one of the very first standard, high-powered, AC-traction diesel locomotives produced by EMD, as well as being one of the only single-engined 6,000hp diesel locomotives in existence, for it was once part of an otherwise failed attempt at acheiving 6,000hp for said type or form of locomotive. At least 478 were built.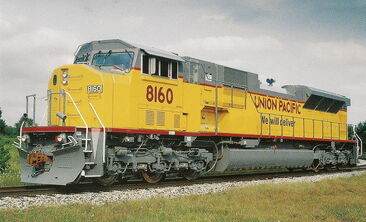 Union Pacific (UP) and Canadian Pacific (CP) were the only two North American Class 1 railroads to purchase the SD90MAC, while later customers such as CITX/CEFX purchased several for leasing service. Many are still currently in active service, yet no longer utilize the special 6,000hp engine, and have been re-rated to 4,300hp (although some never received said engine). Hence being known as the "SD9043MAC" due to being rated at 4,300hp.
Because of the US EPA's strict "Tier 2" policy, the SD90MAC and subsequent models have since been replaced in favor of succeeding types or models of more recent tier-compliant diesels (such as the GE ES44AC, and EMD's SD70ACe). As a result, many have since been placed in storage or have been scrapped (notably the "Phase 2" units).
It was also the main competitor or rival to the GE AC6000CW, but unfortunately shared the same fate.
The model is often considered to be one of the more unsuccessful locomotives produced by EMD, but has since found use on the secondary market; despite having proved to be unpopular with primary consumers upon debut of the 265-H engine as a result of performance and expenses, yet gained popularity with its early 710-equipped counter-part (despite high fuel and maintenance costs).
The only 265H-equipped units which have seen activity in recent years are EMDX 90 and EMDX 91: the twin testbeds used for emission and load testing experiments. They have both since served as test units alongside their 12-cylinder SD89MAC counter-part; EMDX 92, since they were constructed in 1998.
After the success of the
SD70MAC
's introduction from 1993-1995, EMD began experimenting with more advanced high-horsepower, AC-traction diesel locomotives to begin a new era for the North American locomotive market. After the models initial success with Burlington Northern (BN), EMD became interested in achieving an even greater advantage of high-tech motive power to fuel the so-called "power race" between GE and EMD in the 1990's. Hence came the development of the SD90MAC and its lower-horsepower V20 counter-part; the externally-similar
SD80MAC
, developed exclusively for Conrail. The SD90MAC was successful at first: showcasing such features as having an isolated cab (mounted on shock aborbers to reduce cab vibrations), the usual radial self-steering or "steerable" HTCR-II trucks, advanced computer microprocessor software, and an advanced cooling system (being the first advanced type or form of such system developed by EMD since their "
Tunnel Motor
" line). Yet EMD's long-time rival,
GE
, developed a much more successful, popular, cost-effective, AC-traction model (albeit with uneven weight distribution issues): the
AC6000CW
, shortly a year after which dominated in popularity and sales.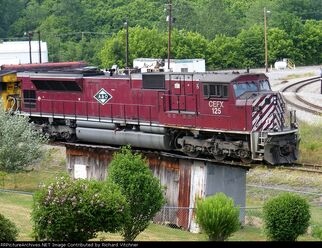 They were first ordered and demonstrated with Union Pacific (UP), and practically served as their "mighty come-back" for having powerful, innovative, and revolutionary locomotives operate on their system once again for heavy-duty revenue freight service, which was reminiscent of their "Big Boy" and "Challenger" types of articulated steam locomotives from the past and their subsequent preceding models of powerful "double-diesels" and gas electric turbines. Though, not long after the type or model's initial debut, Canadian Pacific (CP or CP Rail) grew interested in purchasing such model to haul trains throughout the steep grades on their various routes throughout and in-between Ontario and British Columbia, Canada.
Although originally intended for having 6,000hp, the actual engine (the EMD 265-H, or simply "H" engine) wasn't fully developed in-time during the debut and beginning of production (as with its rival: the AC6000CW). Thus, early units were fitted with a standard EMD 16-710G3B engine generating 4,300hp and served as a temporary "filler" until the "H" engine became available (and was then eventually offered once it was finished); dubbing them "convertible": being capable of easy prime-mover conversion, removal, or modification. Union Pacific; being the first customer, dealt with such issue. Furthermore, they were eventually dubbed as the "SD9043MAC" once the 265-H-equipped "SD90MAC-H" units were delivered to differentiate between the two.
However, upon completion of the SD90MAC's 6,000hp four-stroke, twin-turbocharged, 16-cylinder 265 "H" engine (known as the EMD 16-265H or simply 265-H) began to reveal its countless flaws: such as "teething" issues regarding the engine's cylinders and crankshaft, as well as having the entire engine shut down or malfunction due the constant overheating of the entire cooling system (although the cooling system was originally guaranteed to be successful for the otherwise overstressed "H" engine, but proved that it wasn't, for EMD didn't thoroughly evaluate any defects prior to completion). The 265-H engine was also plagued with high emissions, meaning that it badly polluted the air and furthermore had a high fuel consumption which in-turn was an effect on the fuel economy as well as the overall state of the atmosphere and environment. Thus, because of the implementation of the US EPA's "Tier 2" policy in 2003-2004, all "Phase 1" convertible units equipped with the 16-265H (GM16V265H) engine were then forced to be downgraded to having only 4,300hp as with how the earlier "43 Mac" units originally were produced. In other words, the latter converted 4,300hp SD90MAC units were then referred to as an "SD9043MAC" (like their brethren) due to most units having been required to be downgraded to "Tier 0+" specifications under the US EPA's policy; excluding non-265-engined units who never received the engine and already were given said 4,300hp designation. Apart from these known issues, many of the units were built on otherwise flimsy frames that were prone to bending, cracking, and giving an uneven or unbalanced weight distribution.
Several others from various shortlines, regionals, and leasing companies are in active service as of today, yet most have been placed in storage or have been scrapped and/or retired. Only some of the remaining stored ex-UP SD90MAC-H (SD90MAC-II) units still retain their original 6,000hp engines (besides the Australian variant currently in service). Regional and shortline railroads such as the Indiana Railroad (INRD) and the San Luis And Rio Grande (SLRG) acquired their own fleets of SD9043MAC units from CEFX/CITX as part of long-term lease agreements and currently operate them on heavy-duty coal drag and manifest service. Some of the active units have also been refitted with 16-710G3C-T2 and 16-710G3C-T3 prime-movers as utilized on the succeeding SD70ACe.
Today, the remaining active SD9043MAC's are currently serving in secondary service or are used as spare units by UP and CP; meaning that they are placed in storage and are only used when otherwise needed in case of a "power shortage". Others can also be commonly found seen assigned to potash trains between the states of Idaho and Washington to the province of British Columbia on the UP-CP Spokane International route along the United States-Canadian border. Though as of 2014, said sight is slowly dwindling as a result of the NS acquisition.
Versions/Variants
Edit
Later on in production, EMD began producing several experimental versions of the SD90MAC, such as the
SD89MAC
, along with other testbeds for its "Phase 2" project (such as GM 90, 91, and 92).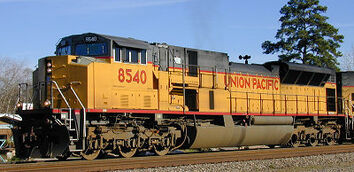 None were successful, but inspired ideas and numerous modern designs for future locomotive models; including the
SD70ACe
and its counter-parts (in which the cab design and rear hood design were eventually used as the official cab and rear hood for the final model; aside from its DC-traction counter-part: the SD70M-2).
Thus, the development of the seemingly plagued "Phase 2" project created the "Phase 2" SD90MAC-H (also known as the SD90MAC-II or SD90MAC-H2) which had an improved, isolated cab which helped improve crew visibility and reduced or silenced distracting noises and cab vibrations, as well as including a permanently-installed "H" engine (being non-convertible), along with having a slightly different rear hood design which was originally intended to improve cooling issues from the previously flawed cooling system as well as having a stronger frame (oddly, instead of being named the SD90MAC-2 or SD90MAC "Dash 2", it was unexpectedly named as such). Though, SD9043MAC units equipped with said 6,000hp engine were often dubbed as being an "SD90MAC-H" or SD90MAC "Phase 1".
Although intended to be far more successful than the original model, the SD90MAC-H was actually much more of a failure and had an even worse performance than its predecessor (primarily with its high fuel consumption and constant teething issues). Many were scrapped despite having only 5 years of service, while the remaining others have since been rebuilt or retired. Several ex-UP SD90MAC-H units are currently awaiting their next fate sitting on various sidings or deadlines within locomotive leasing and contracting companies facilities (like ProgressRail and National Rail Equipment) scattered throughout the United States.
The SD90MAC-H's which were briefly used by the Union Pacific were traded-in from EMD for some of the very first SD70ACe units between in 2005 and 2006. Many of these units have since been scrapped, and were salvaged and used to build said SD70ACe units delivered during that time.
Recently, the Altoona Locomotive Works from Norfolk Southern rebuilt and refurbished a fleet of former UP SD90MAC-H units for use on Australian ore trains. They are currently some of the only active Phase 2, despite it being rated at heavily refurbished and mostly different from its original debut model (having been built to SD9043MAC/SD70ACe specs).
Only four Phase 2 SD90MAC units were delivered to the CP, and have since been scrapped following the 2008-2009 recession.
The SD89MAC is a 4,500hp (4,725 gross hp) variant of the SD90MAC-II built between 2001-2002. Only the prototype, GM 92 (EMDX 92) and was initially expected to serve as a less-powerful SD90MAC utilizing a 12-cylinder variant of the 265-H engine, as well as once being a potential replacement for EMD's current SD70 series. Only the prototype for the low-horsepower SD89MAC was built, and resides at EMD's LaGrange, Illinois plant with several other prototypical units.
EMDX 92 has since undergone numerous Tier 4 emissions testing experiments along with its SD90MAC-H testbed brethren. From 2013 to mid-2015, the unit was utilized as a Tier 4 demonstrator or mechanical testbed for newer models. Two of the units (92 and 91) were part of said experimentation, while EMDX 90 is currently serving as a load test unit.
As of recent, EMDX 92 is fitted with the 20-cylinder, Tier 4-compliant Caterpillar C175-20 prime-mover, and serves as the mechanical testbed for the EMD F125 "Spirit" passenger diesel locomotive. EMDX #91 on the other hand, is the mechanical testbed for the new EMD 12-1010J prime-mover currently used on the SD70ACe-T4.
Cummins QSK-95 Diesel Locomotive (HTL4200AC)
Edit
In late-2013, Cummins proposed a plan to produce a type of 4,200-4,400hp (previously 6,000hp) Tier 4 "ultra low-emmissions" demonstrator rebuilt from an SD90MAC-H unit (known simply as the QSK-95 Diesel Locomotive; named after the engine, during production and now classed as an HTL4200AC) to rival against GE's Tier 4 GEVO demonstrators. The attempts made by the company have since set a new record in history for attempting to establish a successful domestic, single-engined, 6,000hp diesel locomotive model.
During 2014, an ex-UP SD90MAC-H2 unit was rebuilt into said proposed model and was delivered to the Indiana Railroad (INRD) in mid-2015. The unit (CECX #1919; previously CECX #1991) is currently serving as a demonstrator in general revenue service. The unit has also found its way on various other regionals and/or shortlines such as the Buffalo And Pittsburg (B&P) as of recent.
NS SD70ACU
Edit
As of late-2014
, Norfolk Southern (NS) acquired a fleet of recently renumbered SD9043MAC units, and plans t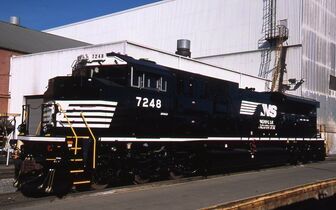 o overhaul all units for revenue service. They are to become essentially SD70ACe's with SD90MAC bodies (having the prime mover and traction motors replaced along with the control stands, electronics, and having updated software and cabs); dubbed as an "
SD70ACU
" or "
SD70ACu
". They also intend on doing so to their fleet of existing ex-Conrail 
SD80MAC
 units. The purchase was made as part of an agreement between EMD and UP, by exchanging their existing SD9043MAC's in favor of receiving new SD70AH (SD70ACe) units. Therefore, NS opted to purchase the units and overhaul them to reduce expenses and costs (basically to save money by buying used, second-hand locomotives to refurbish and rebuild as opposed to buying newer locomotives which are more expensive). NS is expected to have all units completed by 2019-2020.
Specifications
Edit
| Model | SD90MAC (SD9043MAC) | SD90MAC-H (Phase 1) | SD90MAC-H II (Phase 2) |
| --- | --- | --- | --- |
| Production Dates | 1995-2000 | 1996-1999 | 1998-1999 |
| Total Built | 410 | 22 | 46 |
| Length | 80' 2" | 80' 2" | 80' 2" |
| Wheel Arrangement | C-C | C-C | C-C |
| Engine | 16-710G3-ES | GM16V265H | GM16V265H |
| Horsepower Rating | 4,300 | 6,000 | 6,000 |
| Alternator | TA22/CA88 | TA22/CA88 | TA22/CA88 |
| Traction Motors | 1TB2830 | 1TB2830 | 1TB2830 |
| Weight x 1,000 lbs. | 415,000 | 420,000 | 425,000 |
SD90MAC Production Roster
Edit
SD9043MAC
Edit
| Owner | Road Number(s) | Quantity | Date built |
| --- | --- | --- | --- |
| Canadian Pacific (CP) | 9100-9160 | 61 | 1998-1999 |
| CIT Leasing (CITX) | 100-139 | 40 | 1999-2000 |
| Union Pacific (UP) | 8000-8308 | 309 | 1995-1999 |
SD90MAC-H (units equipped with the "H" engine)
Edit
| Owner | Road Number(s) | Quantity | Date built |
| --- | --- | --- | --- |
| Canadian Pacific (CP) | 9300-9303 | 4 | 1998-1999 |
| GM Locomotive Group (GMLX) | GM90-GM91 (Demonstrators/testbeds) | 2 | 1998 |
| Union Pacific (UP) | 8160, 8201-8205, 8506-8561 | 67 | 1996-1999 |

Notes: units 8522-8561 are "Phase 2", therefore making a total of 39 delivered to UP. Only 45 "Phase 2" units were built total versus 433 "Phase 1" units, whereas only 22 of the original "Phase 1" units built were equipped with the 265-H engine.
Notes: Many fleets were renumbered numerous times to make way for new SD70ACe and ES44AC units on UP's roster.
Trivia/Facts
Edit
Like most active-duty diesels rostered on the UP, the SD9043MAC is equipped with DPU capabilities.
Four CEFX SD9043MAC (CEFX 100, 111, 113, and 117) units are currently in active service on the Texas and New Mexico shortline railroad (a Iowa Pacific Holdings company). As an affiliate to the Arizona Eastern (AZER; a G&W company), four more (CEFX 102, 103, 107, and 108) were acquired by said shortline for joint operations between Monohans, TX and Claypool, AZ.
http://investor.cummins.com/phoenix.zhtml?c=112916&p=irol-newsArticle&ID=1860475&highlight=
http://www.railwayage.com/index.php/mechanical/locomotives/cummins-unveils-qsk95-tier-4-engine-indr-is-first-customer.html
https://www.youtube.com/watch?v=3-mtLaB-RGg
http://www.american-rails.com/sd90mac.html
http://www.nsdash9.com/rosters/7230.html
http://cumminsengines.com/first-qsk95powered-locomotive-to-operate