The
GE (General Electric) 7FDL
is a series of four-stroke prime-movers or diesel engine (motor) models built by GE from 1956 to 2004, but is still in production for export models. They consist of 8, 12, and 16 cylinder configurations, and are typically arranged in a "V" formation like many other prime-movers built for diesel locomotives (such as the
EMD
567).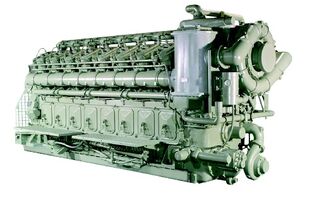 First designed by Cooper-Bessemer sometime in the 1930's or 1940's, what was originally known as the "FVBL" engine, was fitted with various early domestic diesel locomotive models built by GE (such as the 70 Tonner and 95 Tonner) and eventually became known as the "7FDL" after GE purchased the rights to develop their own version of the engine model beginning with the debut of the Universal Series line and subsequent models; such as the UM20 testbeds, beginning in 1956. Subsequently, the 7FDL prime-mover became one of the first turbocharged production engine models rivaling EMD's 567D2, D3, and subsequent D3A engine models or variants utilized on locomotives such as the SD24, GP20, GP30, GP35, and SD35 during the beginning of the great "horsepower race" era in the 1960's.
Upon the debut of the Universal Series, the newly-incorporated 7FDL engine series began production with export models such as the U5B, but eventually found its way on early domestic road-switcher or road models like the U25B and U25C. From then on, the engine was equipped with nearly every domestic GE diesel locomotive model built (except for the AC6000CW units equipped with the twin-turbo HDL-16 or 7HDL-16 engines) until 2004; when the last domestic AC4400CW unit rolled out of Erie prior to the debut of the new, Tier 2-compliant, four-stroke, 12-cylinder, GEVO-12 (and subsequent GEVO-16) prime-mover from GE's Evolution Series locomotive line.
Although no longer manufactured domestically, the engine is still reproduced for replacement and warranty purposes regarding older models (like the C40-8) built before 2004-2005; though the 7FDL is still currently in production for foreign export models like the AC44CWi.
Name Designation
Edit
7 - Prefix used to designate its status as a power generator or engine under GE's product catalog for all divisions under the corporation.
F - Meaning the cylinder bore 9"
D - Identifies the engine configuration with the master and auxiliary connecting rods
L - Refers to the service as "locomotive".
-16 - Refers to the amount of cylinders.
Specifications
Edit
| Model | 7FDL-8 | 7FDL-12 | 7FDL-16 |
| --- | --- | --- | --- |
| RPM Idle / Low Idle | 450 | 450 | 450 |
| RPM Full Load | - | 1050 | 1050 |
| Stroke Cycle | 4 | 4 | 4 |
| Bore / Stroke | - | 9 x 10½ | 9 x 10½ |
| Cylinders | 8 | 12 | 16 |
| Weight (lbs.) | - | 35,750 lbs. | 45,050 lbs. |
| Aspiration | Turbocharged | Turbocharged | Turbocharged |
| Gross Horsepower | 1,600hp (varies depending on power assemblies) | 3,300hp (varies depending on power assemblies) | 4,500hp (varies depending on power assemblies) |
| Traction Horsepower | 1,600hp (varies) | 3,200hp (varies) | 4,400hp (varies) |
Trivia/Facts
Edit
During the production of earlier locomotive types or models such as the 70 Tonner (or "70T"), the Cooper-Bessemer FVBL engines were often referred to simply as "FDL" prior to the acquisition of the design from Cooper-Bessemer. Once the design was acquired, however, "7" prefix was eventually given which signified official ownership.
http://www.amazon.com/Locomotives-Modern-Diesel-Electric-Reference/dp/1554078962