The
GE (General Electric) AC6000CW
is a type of six-axle, 16-cylinder, 6000hp (4,300hp to 6,250hp), AC-traction diesel locomotive built from 1995 to 2001 with about 314 built.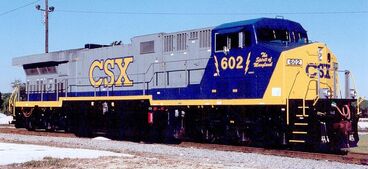 CSX Transportation (CSXT), and Union Pacific (UP) were the only domestic customers to purchase the model, while BHP Ore in Australia acquired a fleet of 8 units to utilize on their lengthy ore trains in 1998-1999.
First constructed in 1995 with 14 pre-production testbeds built, the AC6000CW was among the first AC-traction diesel locomotive built by GE to be initially rated at 6,000hp (with a gross horsepower rating of 6,125hp to 6,250hp) through power provided by the twin-turbo 7HDL-16A (or simply HDL-16) prime-mover. The model initially began production by 1997.
Many have since been downgraded to only 4,300hp as a result of issues regarding the engine performance (some units having been retrofitted with 7FDL-16's like their initial "convertible" brethren; the remainder having modified engine blocks and updated control systems to accommodate horsepower output control), as well as being restricted under the US EPA's "Tier 2" (now "Tier 4" as of Jan. 2015) emissions policy having been made effect since 2005.
As of 2015, only the units owned by BHP in Australia are rated at 6,000hp, though several CSX units are reported to have had their original prime-movers replaced with GEVO-16's.
In partnership with Deutz MWM of Mannheim, Germany, GE worked to develop and perfect the 16-cylinder, 250mm-bore, 320mm-stroke HDL-16 prime-mover (engine or motor) in response to rival EMD's 6,000hp 16-265H (GM16V265H) engine in the
SD90MAC
model. In response to EMD's entry in the high-horsepower market, GE grew interested in developing an even more powerful version of their existing and ever-dominate 4,400hp
AC4400CW
. Though, like their competition for the rapid so-called "Horsepower Race" of the century, GE offered an entirely new and revolutionary locomotive model meant to be equipped with a 6,000hp prime-mover that wasn't eve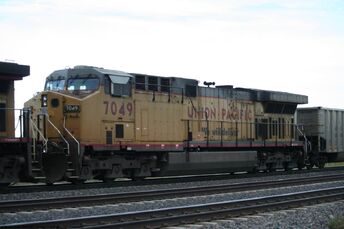 n made yet available. And, like EMD, GE proposed a reimbursement deal as a tie-over or hold-over until the engine was fully developed and made available to the market by fitting early-production units on-order with standard, 4,300hp 7FDL-16 prime-movers made ready for easy conversion for upgrading to the twin-turbo HDL-16. Thus, dubbing the early, 4,300hp production units as being "
convertible
"; meaning that the units were more than capable of having their engines swapped for one another and made for easy removal like the early
SD9043MAC
units ordered by UP. Said AC6000CW units rated at 4,300hp (and 4,400hp in some cases) are often dubbed as a "AC4460CW", "C6044AC", "AC4300W", or simply "C43AC" by UP's roster classification system. As for CSX, there is currently no distinction between their units, for they were all ordered with 6,000hp HDL-16 prime-movers. The first units contructed between 1995-1996 prior to their initial production in 1997, were CSX 600-602 and UP 7000-7009, while a test unit (GECX #4400; retaining the number originally given to GECX #2000, an
AC4400CW
) was built as part of GE's Test Fleet for testing and evaluation purposes regarding the performance of the model. The other 13 testbeds were furthermore built and sent to each respective road, and served as demonstrators to gather essential performance data and experience from within the field. In the meantime, orders for stock, 7FDL-16 "convertible" units were being fulfilled with UP, and were numbered 7010-7079. Obviously, the convertible units were deemed to be far more successful, for UP relied on them far more than their higher-horsepower brethren. Not too long after improvements were made and the finalization of the HDL-16 became clear, the next order for subsequent 6,000hp units was made when CSX placed an order of 117 HDL-equipped units while UP placed an order for 81 not too long after.
Since 2008, many CSX units have since been equipped with GEVO electronics essentially dubbing them as "ES60AC's", while other units are reported to be equipped or retrofitted with GEVO-16 prime-movers (though nearly all of them simply have modified engine blocks or are retrofitted with 7FDL-16 engines). As for the units owned by UP, they are only capable of running with CTE or serving as DPU units like the rest of their AC-traction diesels for they are equipped with more basic software. Since the acquisition of their ever-increasing armada of GEVO diesels, UP has since renumbered their existing AC6000CW units numerous times, and are currently used as spare units in case of a power shortage.
Performance Issues
Edit
During the demonstrations for the 6,000hp CSX and UP units, both railroads witnessed an oversight regarding the otherwise underdeveloped HDL-16 engine, for it proved to be more problematic than what GE anticipated. Because of how little time was used to develop and troubleshoot defects with the engine model, numerous teething, electrical, and microprocessor computer software malfunctions regarding its horsepower output limits with the twin turbochargers occurred, furthermore giving the AC6000CW locomotive model an even worse reputation than what GE expected. Furthermore, wheelslip issues also occurred with UP's units as a result of having overloaded axles with the traction motors, furthermore reducing adhesion and tractive effort due to the increased amount of horsepower output provided to each motor from the engine. The units owned by CSX, however, proved to have better adhesion, tractive effort, and better axle loading/distribution as a result of being equipped with AC-radial trucks rather than "hi-AD" trucks. However, after numerous improvements, the HDL-16-equipped AC6000CW became far more reliable than its 16-265H SD90MAC rival, and lasted longer in service equipped with many "true" 6,000hp units until 2005.
The initial concept for the AC6000CW was this: instead of requiring or needing units on a 2 to 3 basis, their goal was to work with a 1 to 2 basis; basically replacing two units for a single unit leading an average 50 to 100 car length train. But there was a catch, however, for if a single unit were to break down or cause the entire train to become stranded, more trouble would ensue for a rescue unit or locomotive would consume too much arrival time, while the stranded train alone would back-up traffic and cause delay and congestion. However, railroads like UP and CSX often operated their units in pairs or sets, and such incident was (thankfully) a rarity.
Spotting Differences
Edit
Although externally similar to one another, the HDL-16-equipped units are only differentiated by their otherwise distinct twin-exhaust stacks to support the emissions created by the twin turbochargers. The 7FDL-16-equipped "convertible" units, however, are indentified by a single exhaust stack like that of an AC4400CW or a Dash 9. Though, despite being included with an HDL-16 engine, the 6,000hp units are no longer rated as such. Rather, they can only acheive a total of 4,300-4,400hp (and, in some cases, 5,000hp when needed) though numerous modifications.
To accommodate the cooling demands for the large HDL-16 engine, the AC6000CW includes a large, twin fan, radiator section ("radiator fins", "rad cab", or "rear wing") located on the rear hood of the locomotive.
To also accommodate the large engine, the frame of the AC6000CW model is lengthened (and noticably sloped and beveled) in contrast to an AC4400CW or a Dash 9.
The air tanks or air reservoirs are also mounted on the beveled side of the frame or carbody.
Like their fleets of AC4400CW units, CSX ordered their AC6000CW's with AC-radial trucks (or "AC-trucks") as opposed to the conventional "hi-AD" (or "Hi-aid") trucks.
Larger, 5,500 gallon fuel tank present to accomodate engine's high fuel consumption or "apetite".
Specifications
Edit
| Model | AC6000CW | AC6000CW (Convertible) |
| --- | --- | --- |
| Production Dates | 1995-2001 | 1995-1998 |
| Total Built | 207 | 107 |
| Length | 76' 0" | 76' 0" |
| Wheel Arrangement | C-C | C-C |
| Engine | 7HDL-16A | 7FDL-16 |
| Horsepower | 6,000 | 4,300/4,400 |
| Alternator | GMG201 | GMG201 |
| Traction Motors | GEB13 | GEB13 |
| Weight x 1,000lbs. | 425 | 412 |
Production Roster
Edit
| Owner | Road Number(s) | Quantity | Date Built |
| --- | --- | --- | --- |
| BHP (Billiton Iron Ore) Australia | 6070-6077 | 8 | 1998-1999 |
| CSX Transportation (CSXT; CSX) | 600-699, 5000-5016 | 117 | 1995-2001 |
| General Electric Leasing Demo (GECX) | 6000 | 1 | 1995 |
| Union Pacific (UP) | 7000-7009, 7510-7579 (#7511 1st)* | 81 | 1995-2000 |
| Union Pacific (UP) | 7010-7079, 7300-7335 (4,400 horsepower) | 106 | 1996-1998 |
Notes*:
UP received two units with the same number: #7511. The original unit given said number was sold back to GE sometime in 2001-2002 after having been involved in a fire, became GECX #6002, and is currently part of GE's test fleet. The replacement #7511 unit was delivered once the next order was fulfilled.
UP 7000-7009 and 7510-7579 are considered to be the only "true" (non-convertible) AC6000CW units built for UP, yet (ironically) were converted or de-rated to 4,300-4,400hp following the "Tier 2" regulations.
GECX currently owns three AC6000CW test units, though two have since been disassembled.
Trivia/Facts
Edit
The AC6000CW is also known simply as the "AC60CW", "CW60AC", or the "C60AC".
Prior to the UP-SP merger in 1996, the SP placed an order for three units (numbered 600-602), though the order was never fulfilled, and was inherited through UP's acqusition of their subsequent
UP #7312 was involved in a wreck sometime in 2005 while in a consist on an NS train, and was rebuilt by the railroad by retrofitting a C40-9W cab in place of the original.
The AC6000CW also holds the record for hauling one of the longest trains in the world for BHP, as stated in the Guinness Book of World Records.
BHP's AC6000CW units are equipped with traditional control stands as opposed to the desktop style control stands found on all domestic units.
CSX #666, an AC6000CW, was infamously nicknamed "the devil train" or "the devils numbers" by railfans and employees. Hence, a small stencil located on a side of the cab signifying it before eventually having been repainted into the current YN3 scheme.
UP ironically received two units with the same number: #7511. The original unit given said number was sold back to GE, became GECX #6002 sometime in 2001-2002 after having been involved in a fire, and is currently part of GE's test fleet.
CSX #601 and #602 are currently part of CSX's "Spirit of" fleet. CSX #601 is the "Spirit of Waycross" unit, while #602 is the "Spirit of Maryland".
Prior to the closure of through traffic on the line in 1997 under UP ownership, the SP operated sets of leased UP AC6000CW helpers throughout the 3.5% grades along the Tennessee Pass in Colorado between 1995-1996 to assist heavy coal drags hauled by their AC4400CW cousins.
http://www.american-rails.com/ge-ac6000cw.html
http://www.amazon.com/Modern-Locomotives-Horsepower-Diesels-1966-2000/dp/0785826815
http://www.amazon.com/gp/product/1554078962/ref=pd_lpo_sbs_dp_ss_2?pf_rd_p=1944687582&pf_rd_s=lpo-top-stripe-1&pf_rd_t=201&pf_rd_i=0785826815&pf_rd_m=ATVPDKIKX0DER&pf_rd_r=0T7VS8WS71R66M4X6P92http://trainweb.org/csxphotos/other_spirit.htm
Community content is available under
CC-BY-SA
unless otherwise noted.