The
GE (General Electric) Evolution Series (or simply "GEVO")
is a series or line of high-powered, energy-efficient, six-axle diesel locomotives which first debuted in 2005, and is
still currently in production
(with prototypes or testbeds built from late-2002 to mid-2003).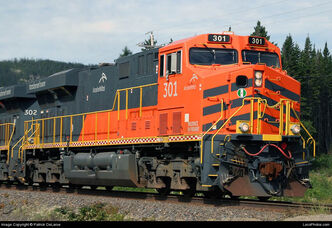 The Evolution Series is GE's main and current locomotive line. Various units of different models are primarily in active general revenue service and operate throughout North America, Latin America, Australia, North Africa, Asia, the Middle East, and other parts of the world with over 5,000 units built as of mid-2012, with hundreds more expected to be produced by the end of 2015.
The line was originally built to strictly follow the US EPA's "Tier 2" emissions policy regarding fuel consumption, engine emissions (exhaust), and operating costs. Hence, the line was developed in response to following or abiding said policy or code by reducing the amount of emissions, consuming less fuel, and furthermore reducing the average operating costs to assure the most energy-efficient or Tier 2-compliant diesel locomotives possible. The series was also originally built to compete with rival EMD's SD70 series of diesel locomotives, as well as being a replacement to the preceding C44-9W and AC4400CW  models. But like the initial successes of the latter, the GEVO series' introduction was an initial success, and has since dominated over EMD's SD70 line since the line's initial debut in 2005. Beginning 2011-2012, the locomotive line transitioned to "Tier 3" requirements, but was eventually redeveloped in preparation for the upcoming "Tier 4" policy which became effective in 2015.
A decade later, the line has since been revitalized beginning mid-2015 with the debut of the Tier 4-compliant ET44C4 and ET44AC production models. Effective January 1st, 2015, all newly manufactured locomotives (including GEVO's) built domestically for domestic customers are required to meet the US EPA's "Tier 4" standards. 
The three main locomotive models or types themselves (the ES44DC, ES44AC, and ES44C4) are essentially upgraded, more fuel-efficient versions of the Dash 9 and AC Series of diesels produced by GE (both were in-turn originally meant to serve as a replacement of the preceding Dash 8 Series or line). They are also designed to be compatible with said preceding models, yet were originally a suitable replacement as a result of having much more advanced features as well as having a more powerful and efficient prime-mover: the 12-cylinder, four-stroke, GEVO-12.
ES44DC - Dash 9 successor
ES44AC - AC4400CW successor
ES44C4 - A1A-trucked version of the original ES44AC
ET44AC - Tier 4-compliant version of the previous ES44AC model ("ET" for "evolution technology" or "T" for "tier")
ET44C4 - Tier 4-compliant version of the previous ES44C4 model ("ET" for "evolution technology" or "T" for "tier")
ES44AH - CSX's version of the ES44AC built to their own unique specifications
C45ACCTE - UP's version of the ES44AC built to their own specifications
C45AH - Heavier version of the original C45ACCTE built with larger cab; essentially UP's version of the ES44AH
ES45AC - ES44DC rated at gross horsepower: 4,500hp as opposed to 4,400hp
ES44DCi - Australian variant of the ES44DC meant for operating in the Australian Outback
ES58ACi - Broad-gauge Brazilian variant of the original ES44AC model capable of producing 5,800hp
ES59ACi - Chinese version of the ES44AC; classified as the "HXN5" by Chinese Railways
ES23B - Re-powered, 16-cylinder four-axle Dash 8; merely a concept)
ES40DC - ES44DC built specially for NS; later used as a designation for CSX's de-rated 4,000hp ES44DC's
ES40ACi - 4,000hp Egyptian version built for Egyptian National Railways
ES44ACi (or TE33A) - Kazakhstan version of the original ES44AC
ES40ACi (*) - Narrow-guage variant built for South Africa (no distinction as of yet*)
Trivia/Facts
Edit
Earlier ES44AC and ES44DC units were often classified as an AC44EV or a C44EV before the term "GEVO" was used, and before the official line or series name was developed or finalized. Said units were testbeds demonstrated to UP and BNSF. Norfolk Southern (NS) has a fleet of ES44AC GEVO units (including a fleet of SD70ACe units) painted in special "heritage" schemes; liveries meant to commemorate the railroad's pedecessors and ancestry, and are part of their revived "heritage" program which was officially greenlit in 2012 which also marked the railroad's 30th anniversary. Such units or locomotives are known simply as "heritage units".
The Lehigh Valley and Norfolk Southern (the original NS; known as the Norfolk And Southern Railway) heritage units both received numerous updates to make their once-slightly inaccurate schemes more accurate and true to their own respective ancestry.
UP #7964 is the 5,000th GEVO ever produced, and wears special banners to commemorate the extraordinary milestone.
BNSF Railway had their earlier ES44DC's painted in their "Heritage 2" (H2) paint scheme, and were eventually painted in their current "Heritage 3" (H3) scheme, which then made them some of the first units to receive said livery (whereas the earlier units delivered were some of the last to receive the H2 livery).
Iowa Interstate (IAIS) #513; an ES44AC, was also painted in a special scheme to dedicate the CRIP (Chicago, Rock Island, And Pacific; or simply Rock Island) railroad's heritage, primarily because of how the actual railroad operates mostly over former Rock Island trackage.
http://www.finnmoller.dk/rail-usa/loco-guide/index.htm
http://www.fasterfreightcleanerair.com/pdfs/Presentations/FFCACA2008/Pete%20Lawson.pdf (Page 10 includes info regarding the ES23B).
http://www.ugllimited.com/asset/cms/freight_product_brochures/evolution_series_locomotive/084_evolution_productsheet_v4_web.pdf
Trains Magazine Locomotive 2015