This article or page is currently unfinished.
The
GE (General Electric)
U25C is a type of 2,500hp six-axle diesel locomotive built from 1963 to 1965 with only 113 built total.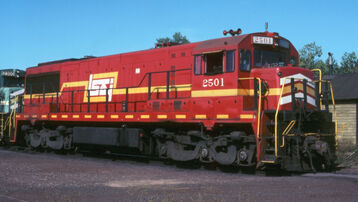 The model is one of  many as part of GE's Universal Series (or known simply as a "U-Boat").
Louisville And Nashville (L&N), Chicago, Burlington, And Quincy (CBQ; Burlington or Burlington Route), Oro Dam Project (ODRR or ODC), Atlantic Coast Line (ACL), Pennsylvania Railroad (PRR), Northern Pacific (NP), and the Lake Superior And Ishpeming (LSI) were the only companies to purchase units of the model.
They were then inherited or acquired through Penn Central (later Conrail), Family Lines System (following the SCL merger), and Burlington Northern after numerous mergers which occurred during the time. Upon the completion of the Oro Dam Project in California, the remaining units owned by the contracting company (minus the two which were wrecked and eventually replaced) were then sold to the L&N and lasted prior to the CSX merger in 1980.
Only one U25C has been preserved, while the remainder have since been scrapped.
Although not nearly as popular or commercially successful compared to its four-axle counter-part; the U25B, the U25C was still a powerful machine upon its debut. Regarded as the first six-axle road switcher (or road diesel) built by GE, the model began what was only a small stepping stone for today's modern motive power.
http://www.i2k.com/~dpierce/LSI/gallery.html
http://www.rrpicturearchives.net/archiveThumbs.aspx?id=72686
Community content is available under
CC-BY-SA
unless otherwise noted.