The GWR (Great Western Railway) 57xx or 5700 is a type of 0-6-0T (0-6-0PT) pannier tank steam locomotive (tank engine) built from 1929 to 1950 with 863 built for the Great Western Railway of Great Britain. 
Many have been scrapped, though few have been preserved.
The GWR 57xx class was primarily used on the many branchlines that were part of the GWR's railway system. Their unique "pannier" style of watertanks were installed on the sides fully enclosing the boiler (allowing for longer traveling distances) rather than being partially enclosed like earlier GWR tank engines (such as the 14xx or 1400). They proved to be reliable time and time again, for some were eventually rebuilt or served as the basis for the succeeding 97xx Class (previously the 8750 Class). Hence, their design was used primarily for later classes or models of tank engines built by the railway until the nationalisation of British Railways (BR). Though, many of the preceding designs were inherited through said merger. 
They survived into the formation of British Railways, and were slowly replaced by numerous types of shunting (or switching) diesel locomotives by the late-1950's (such as the BR Class 08). Many survivors were then sold, scrapped, or retired to various shortlines and industries following the End of the Steam Era in Great Britain. Few were saved, however. 
Trivia/Facts
Edit
Duck (a.k.a. Montague), the Great Western Engine from the Thomas and Friends franchise, is based on a 57xx (while his friend, Oliver is a GWR 14xx; an earlier class of tank engine).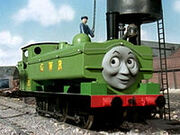 They are considered to be some of the most reliable and well-known tank engine steam locomotives built in Britain, as well as being a Great Western icon for being the largest type of steam locomotive ever produced, and the most commonly seen.