The Model 10 railroad crossing signal is a type of grade crossing (or level crossing) signal used to warn and alert automobile traffic (and in most cases, pedestrians) of an approaching train.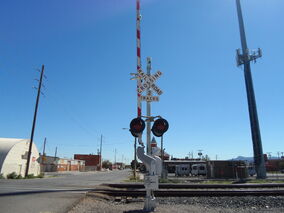 It usually consists of 4-way (and sometimes vary from 2-way or 8-way configurations, depending on the nearby roadway setups) light configurations which alternate or flash red LED or incandescent lights (which usually vary in size; mostly found in 12 in., but still commonly found in 8 X 12 fashion). A striped white and red crossing gate is mounted to prevent from automobile traffic from driving around or through the crossing into the danger of an oncoming train; essentially acting as a barrier.
A similar, yet gateless crossing signal also exists and is known as the A-479.
Brands And Companies
Edit
GS (General Signals)
WCH (Western Cullen Hayes; part of Federal Signal)
FS (Federal Signal)
ASC (American Signal Company)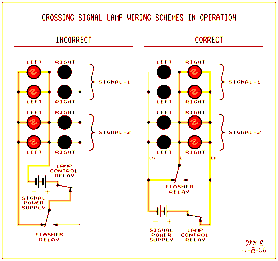 Safetran
MI (Modern Industries)
Defunct: Edit
Wabco (Westinghouse Air Brake Company)
WRRS (Western Railroad Supply)
RACO
US&S (Union Switch And Signal Co.)
Griswold
GRS (General Railway Signal)
http://www.westernsafety.com/wch-railroadproducts/wchpg1.html